Minimalist art, as an art movement, originated in the 1950s and 1960s and was aimed at limiting the number of visual elements. Also in photography minimalism was introduced. Minimalist photography is a concept that takes a little effort to fully understand and challenges the viewer.
Minimalism is reducing the image to its essential. The focus is completely on the subject and you are drawn into the image like a magnet. Despite there is little to see, you keep looking at it. What is the secret of a strong minimalist image? It is not only an interesting composition, the most beautiful light, and the right technique. The image should also tell a story about you as a photographer, making your photos personal, unique, and powerful.
Making minimalistic images is not always easy. The idea was to show a certain feeling to the detriment of the details. This meant that a lot of traditional rules were thrown overboard. One wants to create an image with a certain visual element: line, shape, colour tone, pattern, texture. A good example is dune parties without a horizon.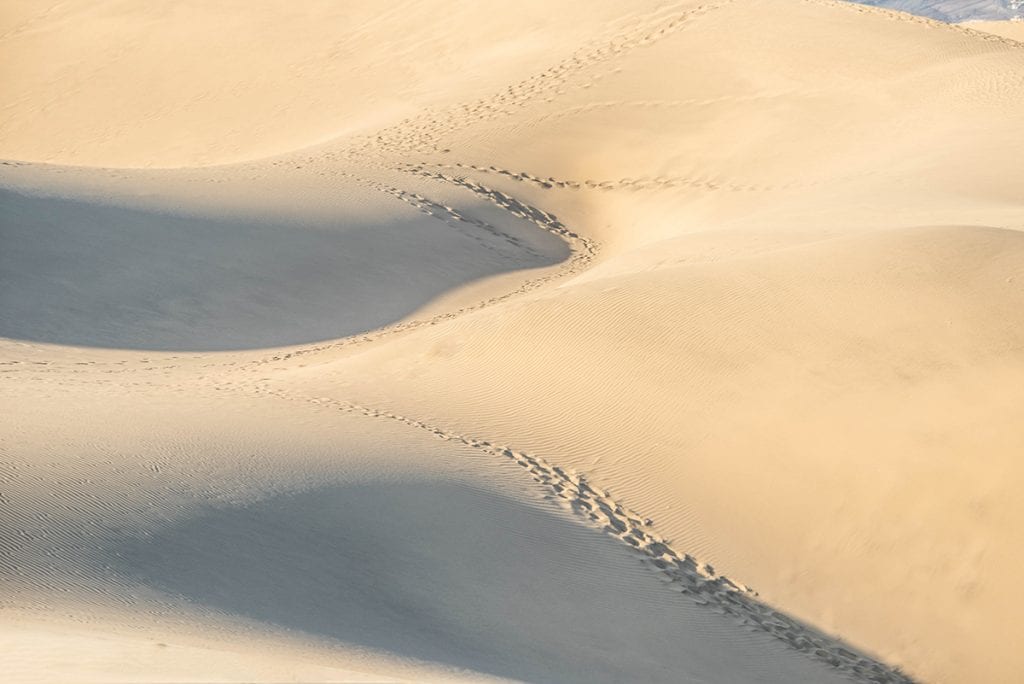 Minimalism is as such, a simple concept, Although there is much more involved than just not having much in your frame. When taking a minimalist approach in landscape photography, you should consider the at least following topics: subject choice, subject placement, negative space, isolation, and colour…
Simplyfiying your landscapes
Minimalist photography will usually consist of as few elements as possible; sometimes just one subject against a simple background. Colour contrast can make minimalist photography very powerful and makes it stand out. Sometimes leaving out colour (black and white) can make the picture even stronger. Negative space can also be used in a positive way. Texture can also become the subject when used as a frame-filling element, or as a repeating pattern, both of which can be found in nature.
Keeping it simple is the first and most important compositional rule. Of course, we want the image not only to be simple, but also interesting and meaningful to the viewer
Simplifying also means removing distracting elements. The less cluttered the image, the easier for the viewer to understand and connect with it. As a photographer you decide what the main idea is and what is necessary for conveying it. Everything else should be excluded.
In my own landscapes and black and white long exposures, the landscape is still recognisable. A question I ask myself is: how far can one go in simplifying an image and still be able to call it a landscape? Have a look at my blog on fine art photography.
Certain locations like coastal scenes, dunes, deserts, agricultural fields lend themselves to a minimalist approach. They offer large expanses of uniform background, perhaps interrupted by the occasional post, bridge or tree.
Negative space
Negative space (refers to the space around the main subject) can be used in a positive way. The subject, even when it is small, should be the most powerful element of the image and its significance must be enhanced by the proper use of negative space.
Negative space will allow you to create an image with a dramatic feel and attract a viewer to it and then lead their eyes towards the smaller area of positive space. The subject will be more prominent when surrounded by the right amount of negative space.
Texture can also become the subject when used as a frame-filling element, or as a repeating pattern, both of which can be found in nature.
Composition in minimal landscape photos
Single Point Compositions that consist of the subject (occupying a very small part of the frame) and plenty of negative space works very well. Its simplest form in photography is an isolated object in a plain background – a boat on the sea or a bird in the sky, seen from a distance.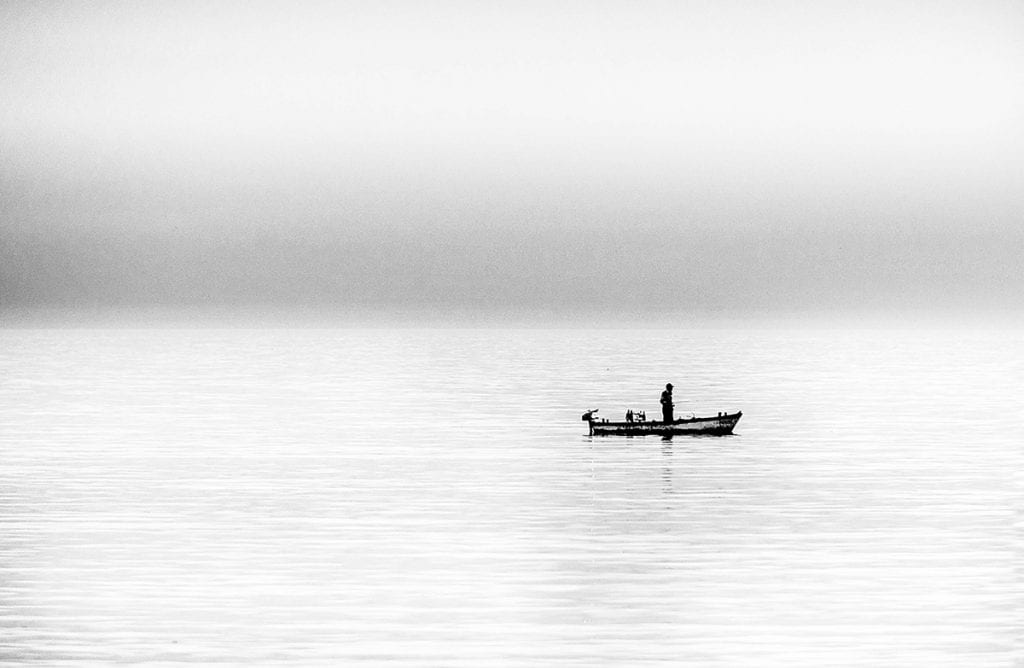 This photo has single point composition and contains a lot of negative space. With a single subject, there is the opportunity to create really bold compositions.
When composing a scene, always pay extra attention to the edges of the frame and keep them clean. If you cannot avoid certain objects, it is a perfect option to remove them in post-processing. Photoshop has several tools to do so.
If you have to put your elements on the side, at least give them some room to breathe.
One of the interesting ways to achieve a minimal image is the use of long exposure.Long Exposure technique has particular advantages and can be of great help when photographing waterscapes or skyscapes and of course only works if you have moving objects in your image like water and clouds. It removes any details from the background, creating a plain canvas on which our subject is placed.
Since excluding part of the scene is our primary goal, the use of a telephoto lens comes into play as an obvious solution. By narrowing the field to be captured we can exclude many unnecessary elements from the frame; unnecessary elements that would have been included if a wide lens was used
Choose an appropriate angle of view: by shooting a tree from a low point of view, for example, we can project it on a plain background – the sky. If there are more trees behind your tree it will not show off or will go unnoticed.
Placing the subject in more extreme positions, such as the centre or edge of the frame, can create a more dynamic look to an image. Rules can be broken. But be aware that deviating too far from the traditional rule of thirds will,
more often than not, disturb the eye and look inharmonious. You will have to find out what works and what does not.
Eliminating colour
Another way is for simplification is eliminating colours or at least reduce the intencity of the colours. There are good reasons for removing colour too. Intense colours have their one dynamic –creating emotions, contrast, and visual intensity – that are extraneous to the essence of our object
Abstracting the image from reality and removing unnecessary details or associations and feelings connected with colours is a key tool in the minimalist arsenal.
The use of a limited number of complementary colours (opposite to each other on the colour wheel, like yellow and blue) can also be successful in minimalist landscape or cityscape compositions.
Make it square?
Use the square format where possible, because of its inherent qualities of simplicity and balance. Themes that best fit the square format are those with multiple axes or repeated objects (patterns). Other themes that fit well in the square frame are symmetrical and radial objects, because of its implied visual center and equal sides.
Conclusion
Besides the use of some techniques photographing minimalist landscapes requires also that you look at the world from a minimalist viewpoint as you strip your surroundings from all ballast.
The art of photography is knowing how much to exclude. You can't photograph the entire world" -Eliot Porter-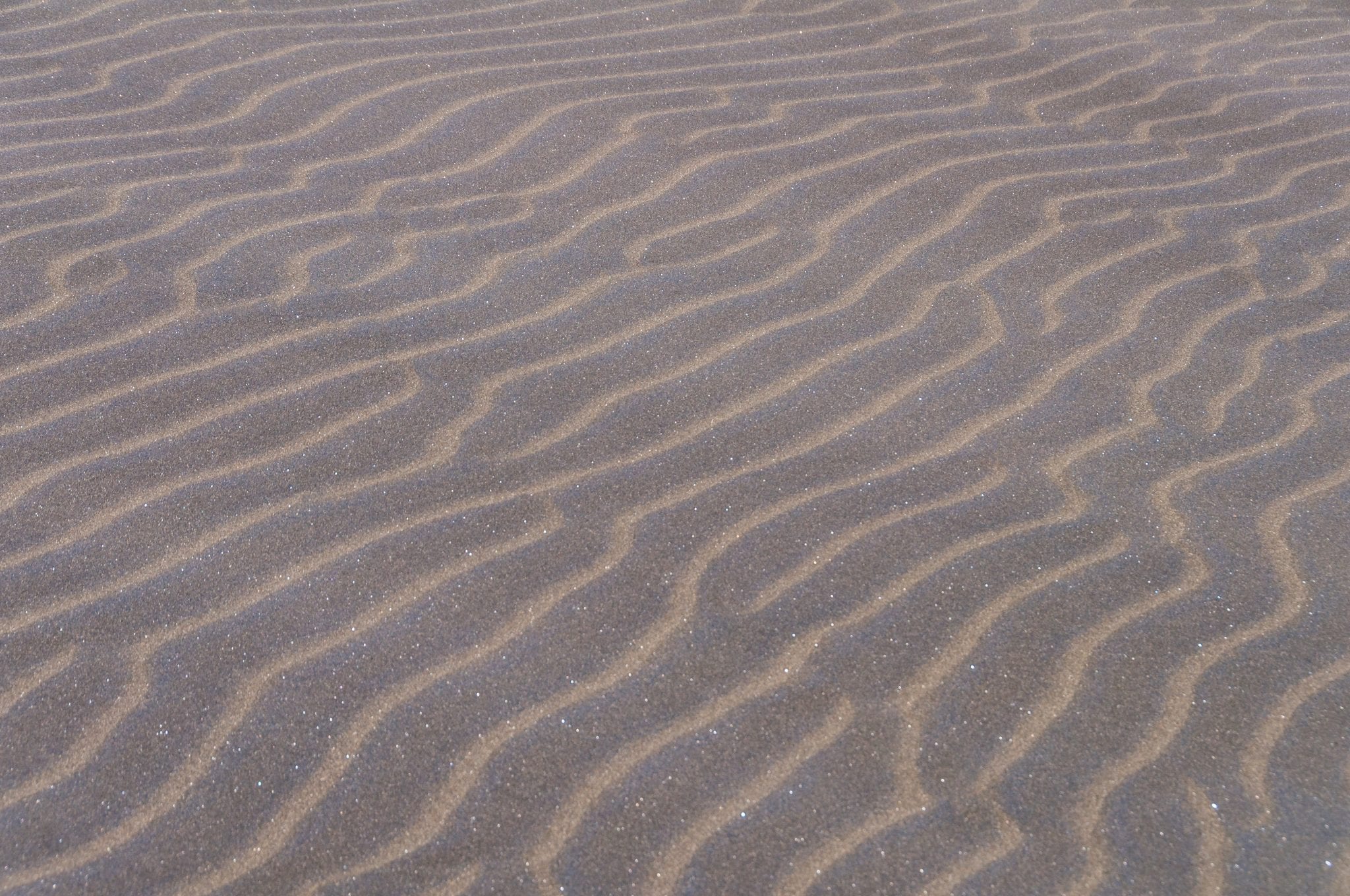 I'm interested to hear your views on this.
---