With this blog, I will start a series of 3 blogs explaining some important facts about the use of filters in landscape photography. In the first part, I will talk about the technical aspect of different types of filters, UV-filters and polarisation filters. In part 2 (to be published soon), I will focus on neutral density filters as useful tools for the creative landscape photographer and then soon afterwards in part 3, I will end with graduated filters. This fist part might be a bit more theoretical, but part 2 and 3 will be more practical for you as landscape photographer. So keep tuned into my website in the coming weeks.
Types of filters
In the vocabulary of landscape photographers, you will encounter many types of filters: UV filters, polarizing filters, neutral density filters, graduated ND filters …
Like so many things in life, you have cheap systems and you have very expensive brands on the market, each with their advantages and disadvantages. The differences are in the durability but also in the possible colour cast that they can cause.
I don't think the colour cast that a filter can cause is the biggest problem, as long as they are uniform all over the surface. My Lee filters give a slightly colder blue cast, but in the kind of pictures I take, this that is often no problem. And if I don't want it, I can get rid of it in one click in the RAW converter in Lightroom or Photoshop.
Below I discuss the different shapes and materials of filters that you as a landscape photographer will want to use sooner or later.
You can choose the different versions of the filter in resin or glass version. Resin filters are cheaper and light but extremely sensitive to scratches. They also seem to suffer a bit more from condensation and the quality of some brands of resin filters is less than those in glass. I choose glass, even though I know they can break easily if you drop them. But by putting a cheap moderate filter on an expensive sophisticated camera and lens, you immediately reduce the value of the whole system.
There are 2 main different types of filters available: first the screw-on filters and secondly the slot filters.
Screw-on filters
The screw-on filters are screwed onto the thread in front of your lens. They do not require additional mounting accessories, just a threaded lens to screw in filters. This is of course not possible on a compact camera, but it is on a DSLR (Digital Single Lens Reflex Camera).
The only lenses that cannot use this type of filters are ultra-wide-angle lenses or fisheye lenses, where the curvature of the first lens element is very pronounced and protruding.
The main advantage of these types of filters is that they prevent the leakage of light between the filter and the lens, a problem that sometimes exists with slot-in filters
Almost all of these filters allow stacking, to use them at the same time. But there are some reasons not to do so:
This is not always practical and fast. If you have to refocus, you can't quickly remove the screw-in filter and reposition it
The transition of the grey gradient filter is always in the middle and that often limits the composition.
Stacking filters introduces the problem of vignetting on wide-angle lenses. Because the outer edge of your filter then goes forward and becomes, as if it were a tube.
For each different size of lens, you will need a different size of filter.
If you only have one lens with a certain diameter, that is, of course, no problem. It also allows for working light and compact. Otherwise, there are "step-up" rings that make it possible to attach a larger filter to a smaller lens.
If you do not need to use Graduated ND filters (gradient filters, see part 3 of these blogs) and you always work with the same lens, the screw-on filter is a very good choice. This solution works fine if you only photograph waterfalls, rivers in forests, or, generally, in places where there is not a big difference in the light between different parts of the scenery. But do you always have that choice?
Slot-in filters
The slot-in filters are the second group of filters. They cannot be screwed to the lens but instead, they require two special accessories: an adapter ring and a holder.
The adapter ring is a special threaded ring that attaches to the thread of your lens (much like a screw-on filter). This ring is needed to mount the holder to the lens, not to attach filters. And for different lens sizes, you might need a different adaptor. Then the holder will be attached to the adapter ring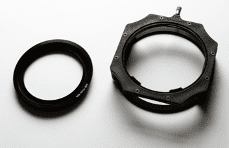 Plug-in or slot-in filters (and the adapter ring and holder) are generally more expensive compared to the screw-in solution, but they still have a few key advantages for landscape photographers:
one filter set is sufficient and can be placed via adapter rings on all lenses
You can install multiple filters without the problem of vignetting
Gives little or no vignetting because the filter surface is usually larger than your lens diameter
On-site filter replacement is really quick and easy
Some plug-in filters are not available as a screw filter
Very flexible in use. You can position the filter perfectly (higher, lower, oblique) depending on the composition
If you use ultra-wide lenses, you can still use filters with a special holder system
If you are going to use GND filters, the plug-in solution is in fact unavoidable.
These types of filters belong to a higher price range. But they will last for years.
The most common plug-in systems support 100mm filters, these are primarily designed for DSLR with wide-angle to telephoto lenses.
There are many manufacturers of adapter rings and holders. I use Lee filters but there are also other brands available. The holder and filters do not necessarily have to be from the same brand. It is possible to combine a holder from one brand with filters from another brand. Of course, you have to use filters of the same size.
UV-filters
The advantage of the UV filter was to protect the film from UV rays, but today this feature is already integrated into your camera. For this reason, this filter is often only used as a lens protector against scratches and dirt. But if you put a lens hood on your lens, the UV filter has little added value and the lens is also protected against impact or scratches.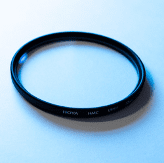 I personally no longer use these filters because other filters protect the lens as much, but mainly because each filter reduces the light however little and I fear that some of those UV-filters don't use high-quality glass.
Polarisation filters
The last grop of filters that I want to discuss in this blog are the polarizing filters. Often, they are undervalued, but I still think they absolutely belong in the photo bag of any landscape photographer.
Polarizing filters are used in landscape photography to remove annoying reflections from water, glass, metal, wet objects, to darken blue skies to get more contrast in the clouds, generally to promote contrasts and to increase the saturation of colours. This usually gives your landscape photo a slightly warmer tint. You cannot reproduce the effect of a polarizing filter in post-processing.
This filter eliminates specific frequencies from the visible light spectrum and only transmits light that is polarized in a particular direction.
Polarisation effect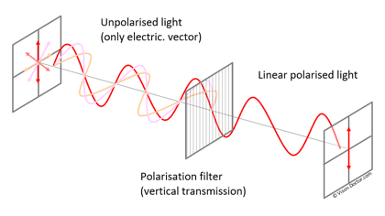 Technically there are two types of polarizers: circular and linear, the difference sits in the working principle of the filter. But the fact is that linear polarizers do not work with the autofocus of your DSLR. Therefore, we will use circular polarizers as an obvious choice.
You can have circular polarisers like a screw-in filter that you put in front of your lens. And there are versions you can screw in front of your slide-in filter holder. I use both types.
A rotating polarizer is made of two metal frames and two glass surfaces. The first frame is screwed on the screw threads of the lens like any screw-on filter; the second (the outer one) connects to the first. With this, you can modify the orientation of the polarization and in that way control the intensity of the reflection reduction.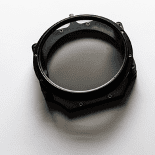 It is obvious that polarizing filters are very useful, nevertheless, I want to summarize here some of their disadvantages and add some recommendations:
They stop about 2 even 3 stops of light. Keep this in mind when you calculate to achieve a correct exposure and when combining them with other filters.
Polarizers are expensive filters.
For optimal effect, they require the camera to be pointed at a right angle to the sun for maximal effect (i.e. when the sun is either on your left or right). The more the angle decreases, the more the effect of the filter drops. Therefore, it is very difficult to use them for panoramic photos because with different angles you get different results.
When composing your image, it might take slightly longer as you need to rotate them to the desired effect.
Sometimes it can be more difficult to see the effect when using the camera's viewfinder.
The filter should be kept clean to avoid a reduction in image quality.
If you still want to buy a polarizer, I would suggest buying a "slim" version to avoid vignetting, especially in combinations with wide-angle lenses.
If you want to use a polarizer and you don't use a slot-in system with adapter ring and holder, you should buy a polarizer that has a diameter equal to that of your lens or one for each different diameter.
I hope you learned something again and invite you to leave a comment below. Part 2 and 3 of this series of blogs for landscape photographers will follow soon with more information about the use of neutral density and gradual neutral density filters in landscape photography.
---