Definition of waterscapes
Waterscapes are, in fact, landscapes including an element or body of water like oceans, seas, lakes, ponds, rivers, streams, waterfalls and even a puddle. For me, Seascapes are part of waterscapes but focused on the seashore.
Photographing waterscapes resembles classic landscape photography with static ground, foreground, and background. But it involves far more elements and specific challenges for photographers, like waves, slippery rocks and rough weather conditions.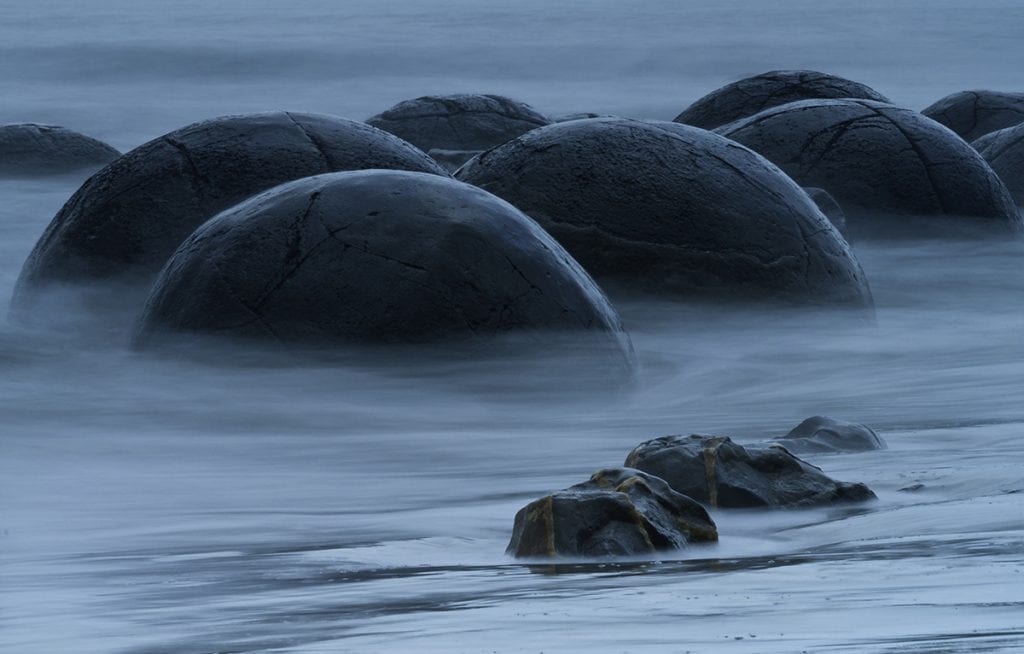 Fascinating waterscapes
I find moving water always fascinating. There is the sheer power of the oceans and rivers or, on the contrary, the peaceful calmness which we experience outdoors in front of this natural beauty that attracts me enormously.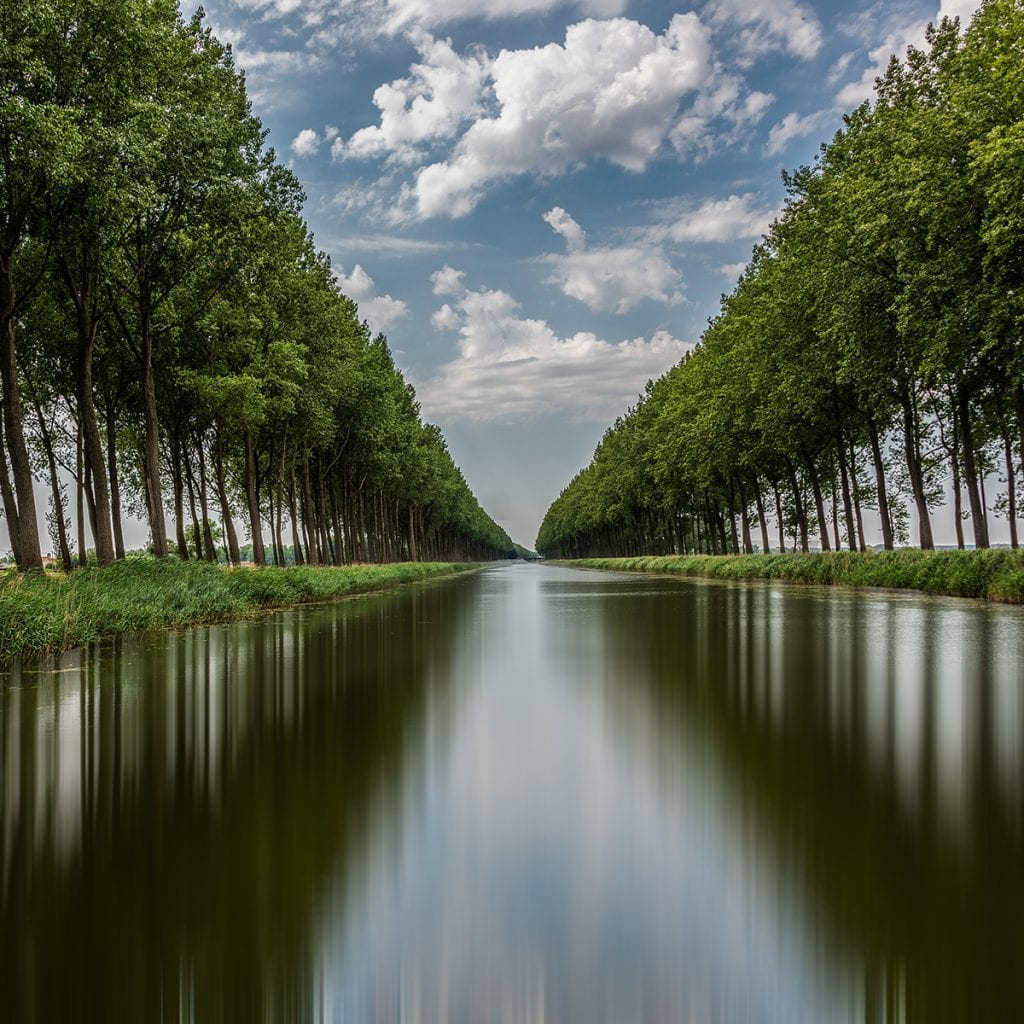 The peace, tranquillity, and vastness of the sea turn photographing almost into something spiritual. Big cloudy skies float by with the wind. Ebb and flow provide a constantly changing landscape. Lines are formed and disappear again. The water comes and goes—the sea surprises repeatedly throughout the year. Special effects arise as well on a beautiful summer's evening with sunset and receding tide or on a cold winter morning with ice and first light.
As photographers, we like to emphasise the brutal force of waves and streams. Or we may choose the opposite: calm it down with long exposures.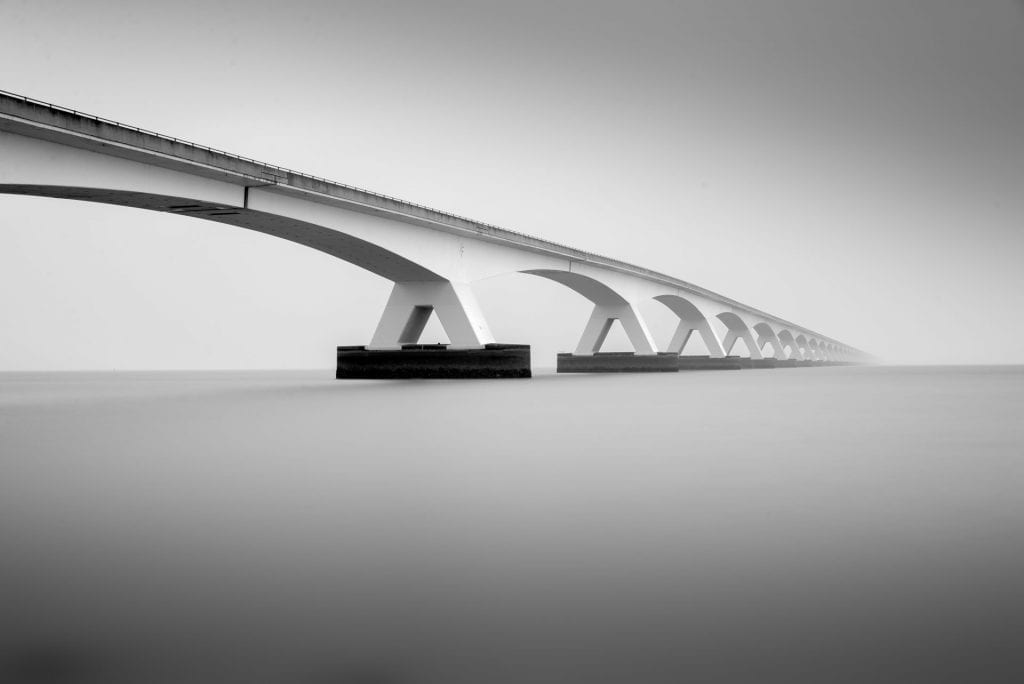 As with other types of photography, we must remember that in our photos, we cannot include the sounds of waves, wind, rivers or the smell of the ocean that will influence our experience when present within the scene. We must pay extra attention to composition, light, and timing to get an attractive picture.
The possibility to change shutter speeds and create silky smooth water opens up a window of creativity for waterscape photography. (See also my blog on creative landscape photography as well). With slower shutter speeds, we can create a sense of movement in the clouds (and the water).
Waterfalls allow for a wide variety of different pictures. Several opportunities allow for a creative approach based on the choice of shutter speed. With slower shutter speeds, the water will look silky and smooth. Using faster shutter speeds freezes it and reveals patterns in the movement and the unusual shapes of the water.
Gear for waterscapes
Besides the camera and lenses, we will need a tripod for long exposures. Don't be afraid to wet the feet of the tripod. Be aware that rushing water will cause less sturdy tripods to vibrate incessantly. Make sure to use a quality ball head on your tripod. I use an Arca-Swiss quick-release system. On my camera, I fixed an L- bracket. This allows me to quickly compose landscape and portrait compositions without moving the ball head. When you think you have captured the scene, keep your tripod stationary until you have reviewed the images in your LCD. Zooming in or out might be necessary to exclude unwanted items. Don't forget to switch off the vibration reduction system of your camera when working on the tripod; after returning home, clean the feet of the tripod as well (water, salt, sand, dust…).
The wide-angle lens is a perfect instrument for waterscape photography. Still, if we do not carefully frame the image, we may be confronted with large pieces of the foreground with no visual interest, or the background may seem very far away so that we no longer see details. So, don't forget to give it a try with a telephoto lens.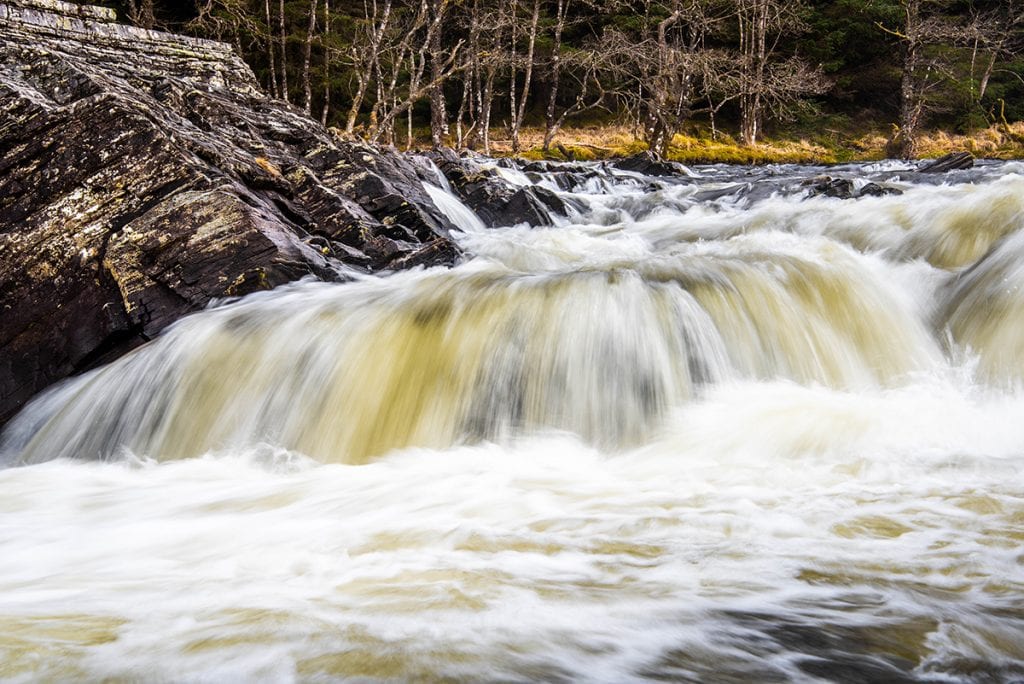 Along the coast, a spray of salty water in the air may cover our gear, lenses, and filters with a sticky layer. So, a microfiber cloth and a water bottle are necessary to clean your filters and lenses. The same applies to the vicinity of waterfalls.
At the coast, you will need a table with the time of the tides. Luckily there are already several apps available for your smartphone. Otherwise, the beach might be overflooded and disappear under the water or the waterline miles away.
Boots to avoid wet feet are indispensable; if the water is cold, use neoprene boots.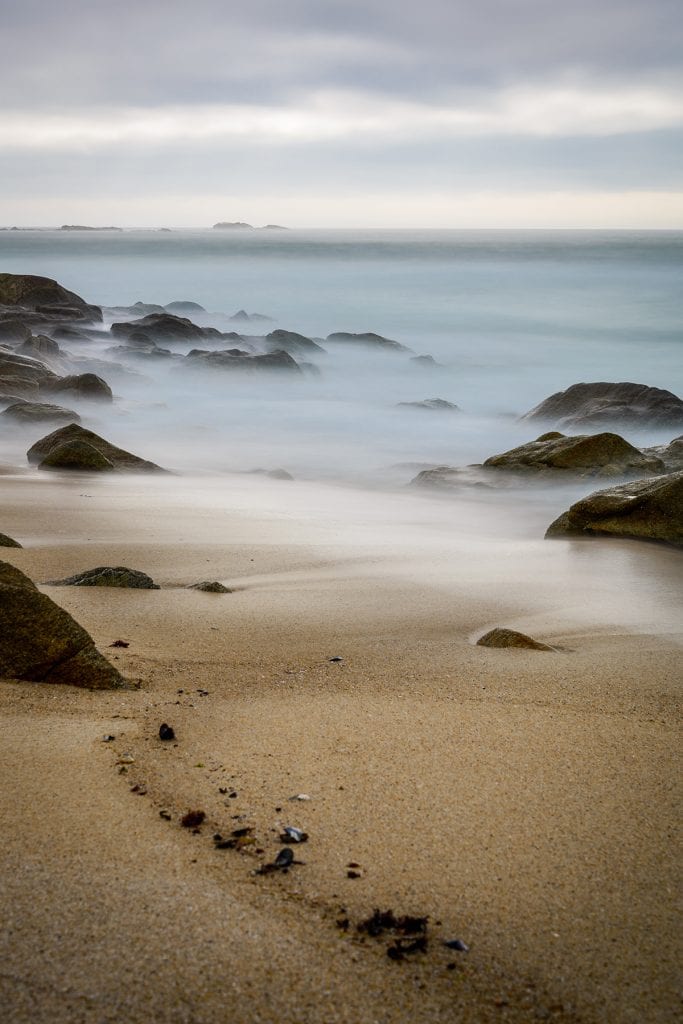 Setting our camera for waterscapes
I always try to shoot in aperture mode to determine my depth of field. Working in manual mode is fine too.
I can achieve the longest shutter speed, most extended, starting at a low ISO. Overcast conditions will contribute to longer exposure times even without filters. If we want longer shutter speeds, we have to rely on the use of filters. I use a set of Lee filters.
Flowing water looks best anywhere between 1/3 of a second and 2 seconds. For some images, flowing water is best with a long exposure of 10, 20, or 30 seconds. My exposure time could go up to several minutes for real minimalistic and artistic long exposures.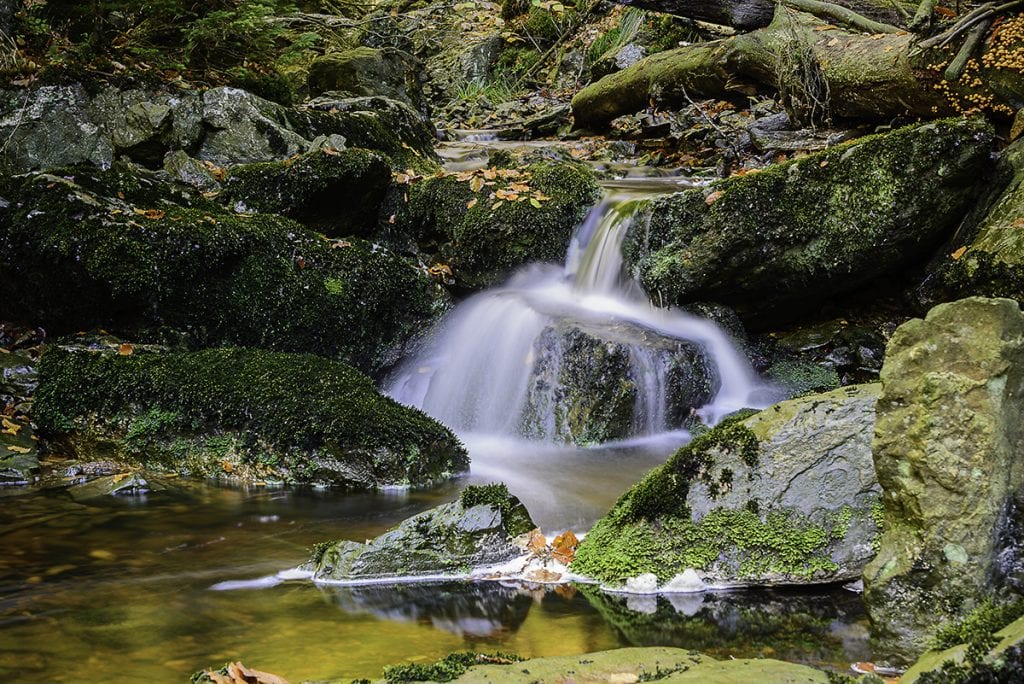 The following table can indicate shutter speeds. Use it as a starting point but judge each case on the spot, checking whether you will prolong the shutter speed.
| | | | |
| --- | --- | --- | --- |
| Waterfall | a little blur | | 1/15 to 1/8 |
| | milky | little waterfall | 1 to 10 sec |
| | milky | heavy waterfall | 1/2 to 2 sec |
| Stream | | | 1/4 to 1/2 |
| Sea | a little blur | | 1/4 to 1/2 |
| | lots of blur | | 2 to 10 sec |
| | delicate mist | | 30 to 120 sec |
If we focus on waterfalls or little streams, overcast days are the moment to look for. Under such conditions, we might succeed in longer shutter speeds without filters, using low ISO settings.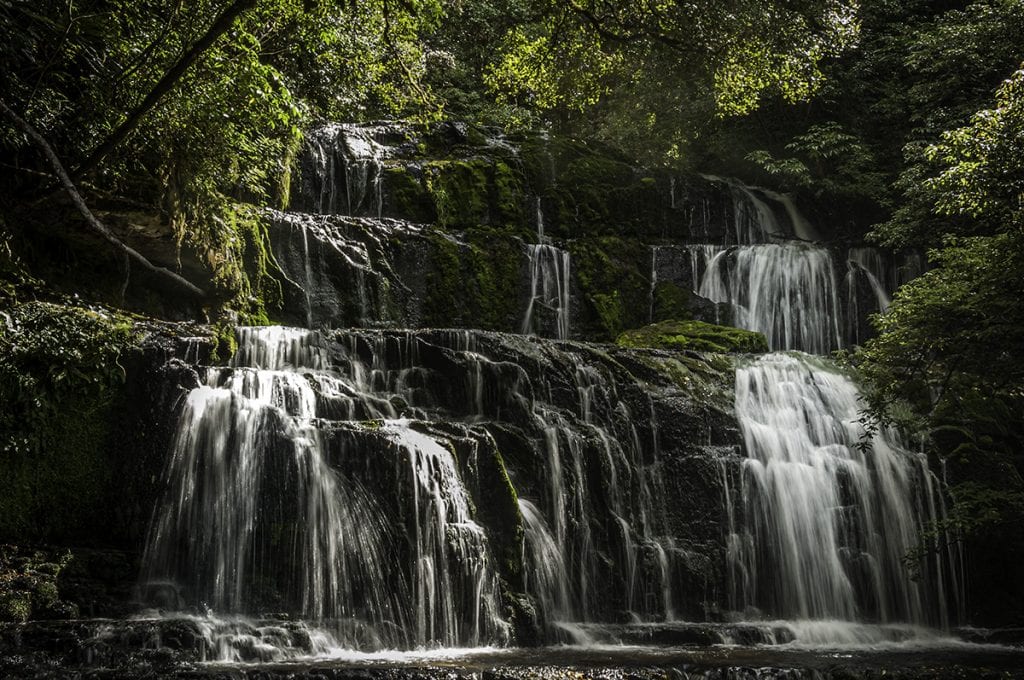 I recommend everybody working in RAW. This is the only way to retain more information to recover details if necessary. Also, the white balance can be easily adjusted in RAW.
As photographers, we hope for a perfect shot in camera. But there are occasions where blending different images in post-processing will be necessary. For example, we might use focus stacking and blending images with varying points of focus to create a sharp image from both the front and the background. Another example is to exclude moving branches or leaves while retaining a longer shutter speed to blur the water.
Composition of a waterscape photo
When composing my sea- or waterscape photos, I start looking at the scene, and I will decide whether it could be interesting to include or exclude the sky and where to position the horizon. Of course, the horizon has to be perfectly horizontal. Wonky horizons in seascapes are very distracting. (see my specific blog on horizons)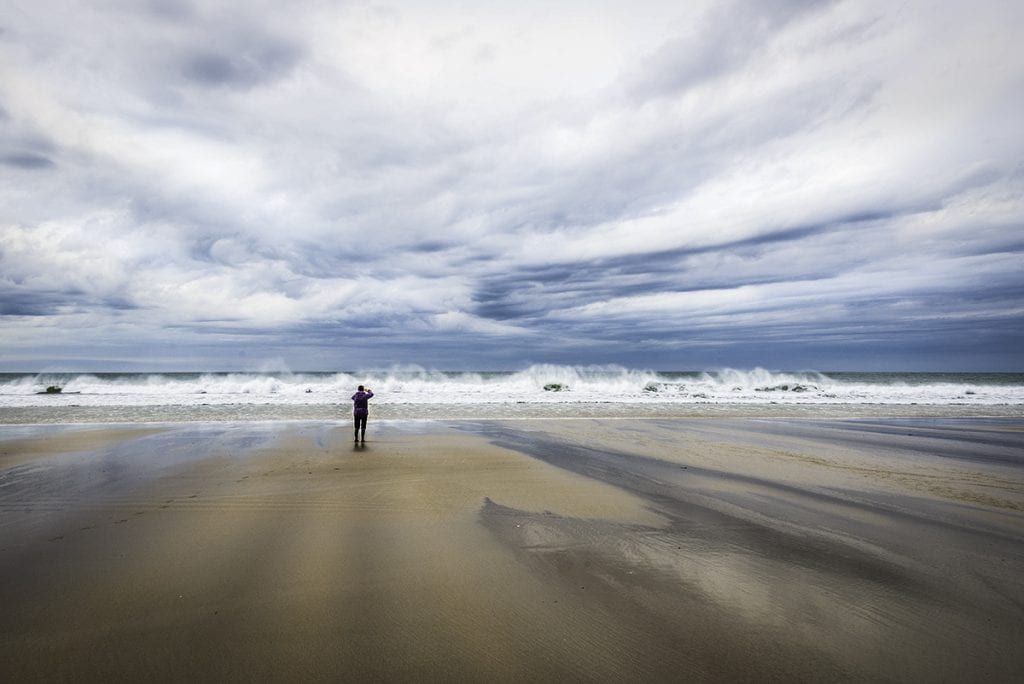 At the same time, I will look for foreground interest and a focal point. If possible, I will place the focal point based on the rule of thirds. But if symmetry would be appropriate, I put, for example, a prominent rock in the centre. Reflections on the surface of lakes or ponds work remarkably well with symmetry. The pictures might become more mysterious when you concentrate on the reflection only.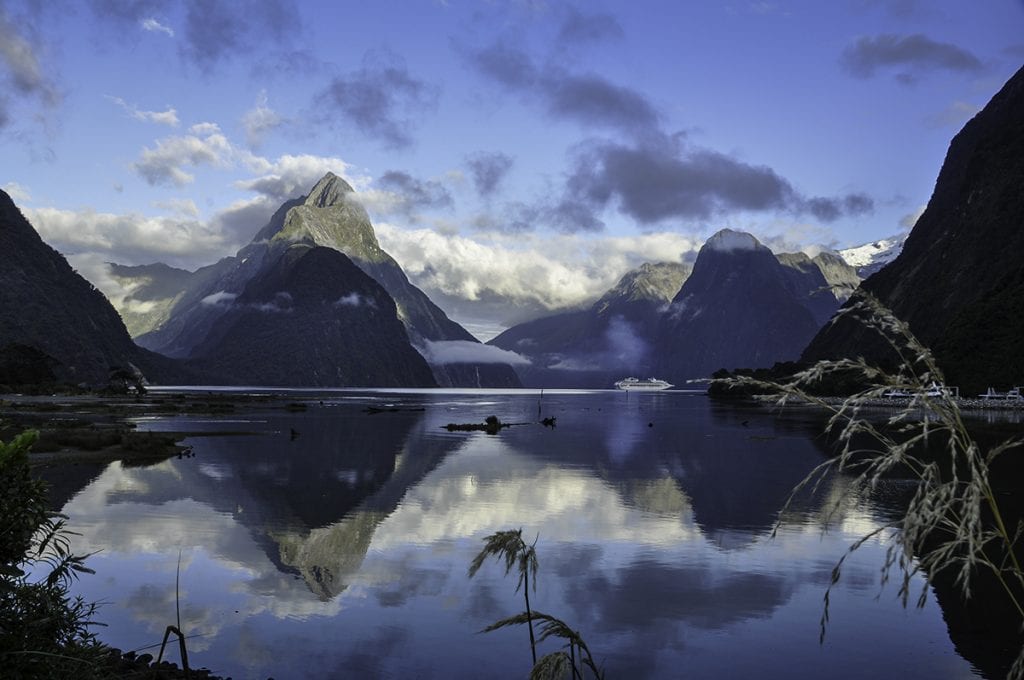 If the tonal range is too large, I will use graduated filters to even out the contrast between the sky and foreground. And depending on the desired effect and the necessary shutter time, I will add more ND filters.
Shortly, I will publish a specific blog on filters and dig deeper into the technical details.
One would think that timing has nothing to do with composition. In seascapes photography, however, timing is crucial for a good result and will determine a large part of the composition. For example, I've found the best way to capture moving waves is to wait until the water retreats back into the sea. I have found that the water is calmer when it is pulling back. This creates lovely streaks as the water curves around pebbles or rocks or flows over an object, like steps in the water.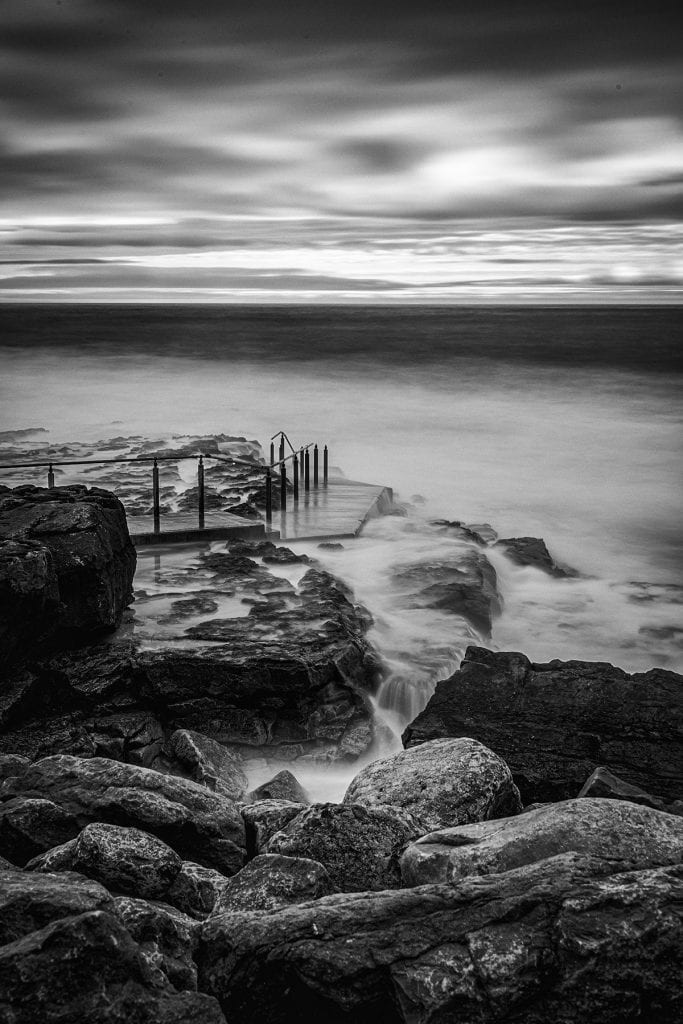 As always, I invite you to leave a comment or question below.
---